Photo by Sarah Dunn, courtesy of
Warner Bros. Pictures.
Evangeline Lilly has made a name for herself by starring in classic portrayals of good vs. evil. Whether she's eluding the Man in Black as Kate in
Lost
, fighting Orcs in
The Hobbit Trilogy
, or taking on new roles – such as Hope Pym in Marvel's upcoming movie,
Ant-Man
– Lilly's work is part of large legacies followed by devoted fan bases.
Lilly, who was a self-described loner in high school with a penchant for listening to Beethoven and writing, has an affinity for this fan base. "These are my kind of people, and they get me," she said. "They don't want me to be some kind of boring pin-up, girl-next-door type. They like the more eccentric, strange side of me."
And so this year Lilly attended San Diego Comic Con in hopes of sharing more of that darker, eccentric side, by telling her own story: The Squickerwonkers. A children's story that Lilly describes as a "graphic novel for beginners" with a chilling band of marionette puppets and the little girl who becomes a part of their world, The Squickerwonkers moves away from the stories of good vs. evil that Lilly's characters are often associated with.
"It's your actions that come to define who you are and can create negative consequences in your life, but that doesn't make you innately unlovable," she said. "Because all of the characters in these books have vices and do things that are naughty, but they're all really loveable."
Lilly wrote the first draft of the story when she was only 14 years old, and through collaboration with Illustrator Johnny Fraser-Allen, whose design credits include The Hobbit Trilogy and Tintin, was finally able to realize her dream of becoming a published author. Lilly said that the heart of the story has remained the same all of these years, but that through Fraser-Allen's artistic vision, she was finally able to realize what her story should look like – and 40 re-writes later, has come up with the final version, which will be published by Titan Books in November.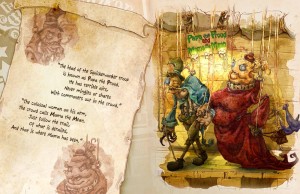 "The thing I had always known about the Squickerwonkers was that they were human, but not human," she said. "So when he [Fraser-Allen] painted me a picture of marionette puppets on that stage, I went 'Oh my god. That's it. That's exactly it. They're human, but they're not human.'"
In her personal time, Lilly does her fair share of both writing and reading. She connects with her fans by holding virtual book discussions over Facebook and Twitter. Over time the same core set of fans tends to show up, many of whom Lilly recognizes – and in a way the discussions have evolved into her very first book club, in electronic form.
"I was a very reluctant social media person. I thought it was something that disconnected people more than connected them," she said. "I got very frustrated being in the public eye for so many years and not ever being able to actually speak directly to my fans, always having a second party be in the middle of that communication. So nine times out of ten I would read something or see an image of myself and think: but that's not me. I felt frustrated at being generally misrepresented. So I finally decided OK, well, this is a way I can have direct access to the people who are interested in my work. And I can say this is who I am, so at least if I'm going to be perceived by the public, I can have some sort of control over that perception."
Lilly said she recognizes that moving into literature can be an uphill battle, pushing against the notion that The Squickerwonkers is the product of a vanity project. But for Lilly, being a famous actress was never a goal; rather, an unexpected detour on her path to being a writer. In fact, Lilly said that her rise to stardom was exactly what she expected – and that she had very low expectations.
"It actually was everything I thought it would be, and I thought it would be pretty hellish. So that's disappointing," she said. "I never dreamed about being a movie star. I never dreamed about that kind of life, and never envied it. When I'd be at the grocery store and line up, I'd see tabloids and think: those poor people, what a miserable life… Acting is a fantastic creative outlet for me, and it's a way of telling stories, which is what I'm really passionate about. I just happened to get a great opportunity to do it for a good amount of money, and at the time I was one of the brokest people I knew… And for me this has been a sort of roundabout way to get to my dream, which is writing."
And now that she's pouring her passion into her own writing project, Lilly said she has an easier time looking at movie scripts through a less critical lens.
"By the end of Lost, I used to throw scripts across the room when no one was looking," she said. "Now that I've started writing my own stories, I've surprisingly let up a lot when it comes to the acting side of things. Where now instead of being obsessive about it being a good story, I just want to go and have fun."
Lilly said The Squickerwonkers will be a series of books, with the next releases each focusing on one character from the Squicker-world and how his or her vice led to the character's demise. Lilly also plans to personally put out an interactive edition of the book, complete with voice acting from actor Sylvestor McCoy, known for his roles in The Hobbit Trilogy and Doctor Who.
In spite of her recently-announced role in the Marvel movie Ant-Man, Lilly said she's reaching a point in her life where acting will likely become a smaller part of her world than writing.
"In a week, I'll be 35. So the reality of being a female actress who is nearing 40 means there will be less and less work available, and that suits me just fine," she said. "I hope that it'll be more 25/75."
Lilly's still readily available to snag her dream role, though, which she said would be a part in a Wes Anderson film.
"He is right up my alley. He is quirky and strange but beautifully and incredibly aesthetic," she said. "I would kill to do a Wes Anderson film."
The Squickerwonkers is available online and in stores November 18.